The Fed raised rates for the first time in 10 years but mortgage rates dropped. What gives? 
Homeowners who have waited patiently to see if rates will go lower finally have their chance.
>>Click Here To Check Rates Now<<
Despite the Fed's attempts to increase the cost of lending, rates for mortgages sank and are now hitting all-time lows. Homeowners who are considering a refinance might do well to start right away before mortgage rates follow the Fed rates upward.
But what about those who owe more than their home is worth and can't refinance, what can they do? Prior to the introduction of the Home Affordable Refinance Program (HARP), there wasn't much they could do. Check your qualification.
---
TIP: Lenders don't care if you're underwater. More than 20 percent of HARP users owe at least 5% more than their home is worth! Check Your Eligibility Status Now>>
---
Conventional loans require equity before a refinance is possible and if a homeowner is "upside down" with a mortgage the borrowers would either have to pay down the mortgage to an acceptable level or give up trying altogether. But with HARP, there's hope. At least until the end of this year. See If You Qualify>>
The middle class mortgage stimulus package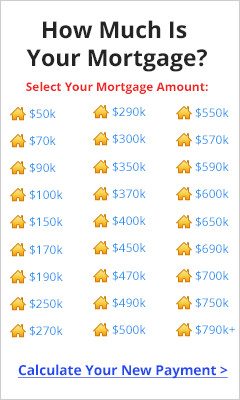 HARP was first enacted by Congress in 2009 and was modified in 2012, helping millions of homeowners refinance their mortgage and get a lower rate without needing any equity at all. How? Because HARP usually doesn't require a property appraisal, there is no need to compare the home's value with the current balance. Someone can owe $200,000 on a home currently valued at $100,000 and still be able to lower their rate with a refinance.
That leaves potentially millions of homeowners who might have applied for the 2009 HARP and were turned down due to valuation concerns may still think they can't refinance. But nothing could be further from the truth. If the loan was closed prior to June 1, 2009 there's still an opportunity to be eligible for HARP, regardless of an appraised value.
You might qualify for a lower interest rate
The qualifications are relatively simple, but they are important. You may be eligible for HARP if:
The loan is currently owned by either Fannie Mae or Freddie Mac.
There have been no late payments in the past six months and no more than one in the past 12 months.
You meet basic income and credit requirements.
If you meet these conditions you are very likely to have access to lower rates. But you need to act now before rates go up even further and start saving each month. Remember, the program will end on December 31, 2016 so don't wait any longer!
Check your eligibility — Free
Step 1: Click your state on the map below.
Step 2: Enter your address, home info and contact info to check your eligibility and receive up to four competitive HARP quotes.
Sources: FHFA Refinance Report