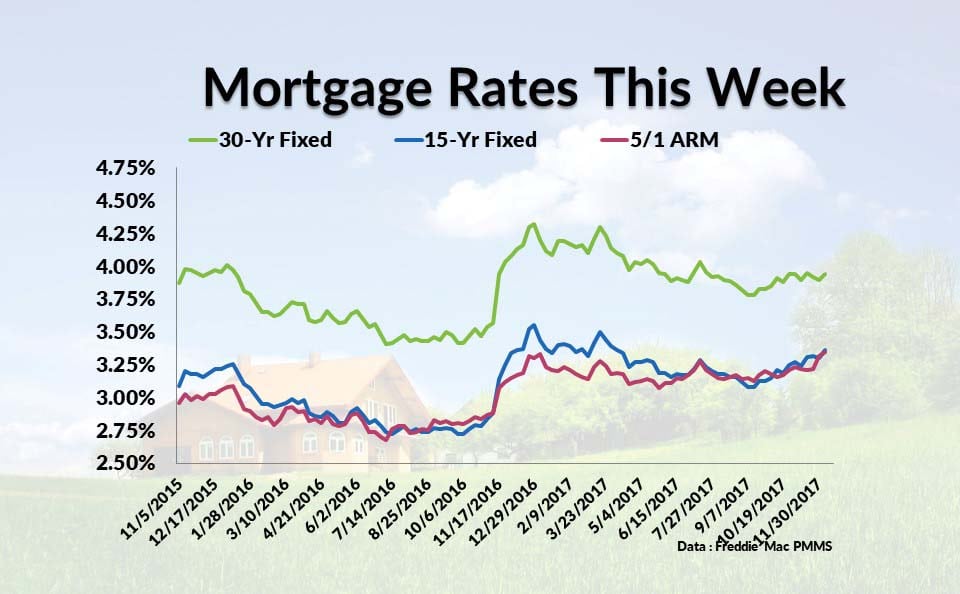 Mortgage interest rates change daily. Keep up with current rates to make the best decision on your home mortgage.
CURRENT MORTGAGE

INTEREST RATES

Mortgage

Rates

Reported

30-Year

Fixed*

15-year

Fixed*

5/1 ARM*

12/7/17

3.94%↑

3.36%↑

3.35%↑

11/30/17

3.90%

3.30%

3.32%

11/22/17

3.92%

3.32%

3.22%

11/16/17

3.95%

3.31%

3.21%

11/9/17

3.90%

3.24%

3.22%

11/2/17

3.94%

3.27%

3.23%
*Average rates from a lender survey of 100+ lenders as reported by Freddie Mac PMMS. Fees and points vary. These are average rates only and intended to give a snapshot of overall market movements, not specifically available rates. For a personalized rate quote click here.
Mortgage Rates Rise Ahead of Fed Meeting
Mortgage rates have been moving up and down over the past few months, but each increase and decrease didn't seem significant enough to affect home buyers' plans.
However, new mortgage rate trends could change that.
Over the past week, mortgage rates rose to an average of 3.94%, good for an increase of four basis points (0.04%).
This wasn't the largest single week increase, but home buyers should start to be wary of rates from now on.
So far this year, mortgage rates have held much lower than most would have expected. Rates came into 2017 above the four percent mark, and the expectation was that they would continue to steadily increase.
But that wasn't the case – instead, home buyers and mortgage rate shoppers were still able to find historically low mortgage rates.
Now mortgage rates are continuing to increase again, and this time could be more permanent than last year due to rising interest rates in all areas.
There's no guaranteeing what mortgage rates will do, but it seems like they're going to increase over the coming months and stay up.
Freddie Mac Reports Current Rates
Each week, Freddie Mac surveys over 100 lenders across the nation to determine a rate average. Because their reported rate is an average, rates that are available to you may end up being lower than those reported.
Over the past week, Freddie Mac reported that the 30-year fixed rate mortgage increased to 3.94%, snapping a two-week trend of decreasing rates.
Rates could be on the move, but they're still below the four percent level. Home buyers looking for the best rates still have a chance to lock in before they increase higher.
Along with the 30-year fixed rate mortgage, Freddie Mac reports on the 15-year fixed rate mortgage and the 5-year adjustable rate mortgage (ARM).
Freddie Mac reported that the 15-year fixed rate increased by six basis points (0.06%). Currently, the 15-year fixed rate mortgage averages 3.36%.
The five-year ARM also increased by over the past week. Currently, the five-year ARM is averaging 3.35%, an increase of ten basis points (0.03%) from the previous week.
The five-year ARM is indicative of long-term rate trends, and it is currently 18 basis points (0.18%) higher than it was at this time last year. Future expectations for mortgage rates show that now might be the best time to lock in.
Your Mortgage Strategy
The Federal Reserve is expected to increase their federal funds rate when they meet next week. This would be the third time rates rose this year.
While their rate doesn't change direct mortgage rates, it does affect them in a large way. Each time the Fed raises their rate, the rate floor rises.
In other words, with every rate increase, the lowest rates can possibly go end increases, meaning rates are forced to stay at higher levels.
The current expectation for rates is that they'll gradually increase over the coming years. This expectation is extended to mortgage rates.
Of course, mortgage rates were expected to increase throughout 2017, but that didn't happen.
It's up to home buyers to take this information and make the best decision they can. It might come down to timing, since many home buyers are having trouble finding the perfect home for their situation.
With the current housing supply shortage, finding a home might be more important than getting low rates.
Current Rates
Because Freddie Mac's report covers mortgage rates from the previous week, mortgage rates today could be different.
Rates change every day, and they change throughout the day. The best way to find out what current rates are is to see what rates are available to you.