Home buyers protect themselves against rising housing costs. They could eventually save $28,000 per year by buying now.
Each month, mortgage giant Fannie Mae surveys average U.S. consumers on their attitudes on home buying versus renting.
The results of the February 2014 survey indicated most consumers would buy a home if they had to move, and the reason is probably rising rents.
According to the survey, 51% of survey respondents said home rental prices will go up in the next 12 months. Only 42% said rents would stay the same, and a dismal 2% said they would go down.
Survey respondents stated they expected rents to rise an average of 4.3% in the next 12 months. That means someone paying $1200 per month in rent will likely pay over $1250 next year at this time.
See if you qualify to buy a home with this quick questionnaire.
If you had to move Tomorrow would you Rent or Buy?
Rising rent prices are a huge factor for consumers when deciding to rent or buy.
Those who rent are at the mercy of their landlord; homeowners with fixed-rate mortgages have stable housing costs as long as they own the home.
That could be why the majority – 66% of survey takers – said they would buy instead of rent if they were going to move. Only 30% of respondents said they would rent a home if they were forced to move out of their current residence tomorrow.
Apply for a low-rate home loan here.
How Much More does it Cost to Rent?
Renting may seem cheaper than buying at first look. After all, you don't have to come up with a down payment or pay seemingly useless fees like mortgage insurance.
However, in the long run, renting costs you a mint.
Since 1981, rent prices have gone up about 3.5% a year according to the Bureau of Labor and Statistics. The question that prospective long-term renters have to ask themselves is, how much will rising rents cost me over the next 30 to 35 years compared to buying?
The national average rent price at the beginning of 2014 was $1,083 per month according to real estate research firm REIS. If you start paying that much today, how much will your rent be in 30 years, assuming a 3.5%-per-year rate of increase?
The answer: $3,039 per month. And that's assuming the national average. If you live in an area with a strong rental market, your landlord could raise your rent at a much faster rate.
Check rates and apply for your home loan here.
Home Buying Stabilizes Housing Costs
Now let's look at an example assuming you were among the 66% of people who said they would buy if they had to move.
Your initial monthly payment could be higher than your rent (although your costs could be lower considering today's ultra-low mortgage rates.)
To be safe, let's say your initial principal and interest payment is $1,250 and your property taxes and insurance is another $250. That brings your total housing cost to $1,500 per month instead of the $1,083 you'd pay in rent.
Now let's look 30 years into the future. If you have a 30 year fixed rate, your principal and interest payment never changes. However, your property taxes and homeowners insurance will increase somewhat.
Let's say your property taxes and insurance rates go up at 3.5% per year. That means your taxes and insurance rates rise from $250 per month to $701 after 30 years.
At that point, you are paying $1,951 per month compared to the $3,039 you'd be paying in rent.
Homeownership Costs Drop Dramatically for Buyers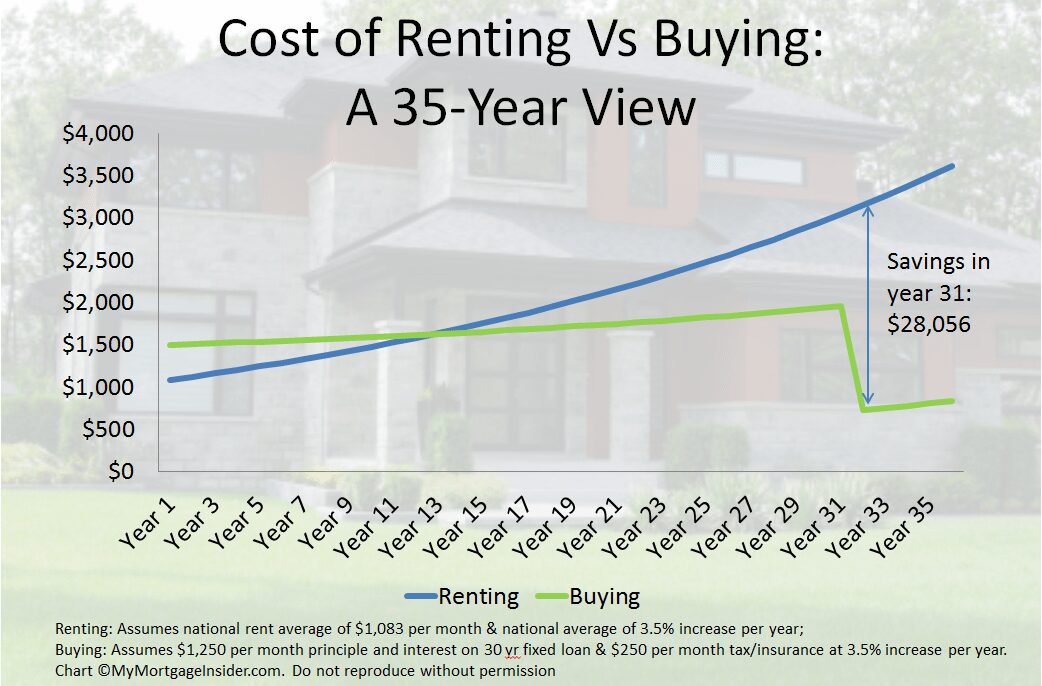 In the 30th year of your loan, you're saving $1,088 per month over renting. But remember that your loan is almost paid off. Starting in year 31, your payment drops dramatically as you pay taxes and insurance only.
Now you are paying only $701 per month versus $3,039 in rent. That's $2,338 per month and over $28,000 per year in savings.
And you own your home and can live in it at a low cost for the rest of your life, or sell and make a huge profit.
It's no wonder that faced with ever-increasing rents, most consumers would opt to buy instead of being subject to their landlords' rate increases.
Become a Homeowner and Lock In Your Housing Costs
You've probably heard stories of shockingly rising rents in areas like San Francisco. It's gotten so bad that many renters simply must vacate the city. While this is an extreme case, there's always a chance you could be forced out of your preferred geographic area due to rising rents.
There's no better way to avoid being priced out of your city, town, or neighborhood than by finding a home and locking in an affordable interest rate.
While everyone around you is still paying skyrocketing rent, you'll enjoy the security of a stable home payment for years to come.